Where Are Your Maintenance Parts Today?
Where are your maintenance parts today? That question turned out to have a costly answer for a large food and beverage production company. With multiple production lines that generate thousands of products daily, the organization understood the importance of keeping these lines up and running, and to ensure this, they kept $50 million worth of MRO inventory on hand. Fast forward to the scenario that every manufacturing organization dreads…
The maintenance team needed a $10 part to repair a motor on their primary production line. However, the team could not find this particular part in their storeroom and had to reach out to the manufacturer to courier the component to the maintenance team. Every hour that this line was down cost the organization $1 million in finished goods. The line ended up being out of commission for 3 hours, meaning that the $10 part had a $3 million impact on saleable product. In a post issue analysis session, the maintenance team realized that while the part they needed appeared in the system, it was not physically on the shelf. Going back further, it was determined that a reorder was not triggered because the system thought there was still stock on the shelf. This situation occurred because the last part had been consumed two days earlier, but the system wasn't updated due to a backlog of paperwork on the storeroom clerk's desk.
So where are your maintenance parts today? Answering that question does not need to be as difficult as it was for this organization. Having an accurate and accessible MRO inventory count is a key component of efficient plant maintenance programs. Some of the risks involved in poor MRO processes include:
Increased equipment downtime
Higher expedited shipping costs to secure mission-critical parts
Increased inventory for safety stock
Frustrated stakeholders who rely on maintenance organizations to keep key machinery running
Improving visibility to MRO inventory in real-time means being able to accurately account for parts spend and avoid significant impacts of stock-outs on production.
What is the best way to measure inventory accuracy?
While MRO inventory parts typically represent a low percentage of total production inventory, it can have an outsized impact on production cycles if not managed properly. Think of MRO inventory management as the equivalent of an offensive lineman in football, if their name is called out during a game, it is probably because of a penalty. With MRO inventory, operations are expected to run efficiently behind the scenes, with the right materials and right quantity in place to address the next incident. The spotlight will only shine on your team if storerooms don't have the needed parts at the right time and place to keep the things running.
Why is having mobile inventory tracking important?
One of the best ways to improve MRO inventory performance is to utilize mobile data collection technology in the storeroom. This technology includes handheld mobile computers, barcode scanners, mobile phones and, in some cases, technology like RFID. The impact of mobile technology can be realized when looking at a number of savings opportunities:
Reduction in direct labor costs because of reduced search time for parts
Reduction in carrying costs due to no excess stock on-hand
Less scrap, obsolescence and shrinkage from excess parts on-hand that are not in use
Reduction in error and labor that result from manual inventory tracking processes
Fewer steps and double-handling of inventory transactions (re-key in receipts, counts, etc.)
To assist in the accomplishment of these improvements, mobile technology can be integrated into the storeroom and maintenance processes whether the storeroom is manned with a 24/7 staff or an unmanned field outpost where the maintenance technician accesses needed parts. Some of the key areas of improvement offered by mobile technology are:
Barcode scanning of inbound and outbound material documents
Identification of parts through barcode scanning (traditional or QR codes)
Use of scanned manufacturer information to readily identify parts
Scanning bin locations for accuracy in putaway and picking transactions
Cycle count and physical inventory processes that use scanning to enable blind counts and recount thresholds
Visibility of part stock in nearby and related storerooms
Access to Bills of Materials to ensure selection of the right part
What's Next?
Keeping accurate MRO inventory is a key part of delivering world-class maintenance service to your organization. The efficiencies and improvements to be gained by introducing mobile technology into the MRO inventory process are straightforward and relatively simple to achieve, while providing dramatic business value. Havensight offers off-the-shelf mobile inventory software based upon SAP native technology and when combined with rugged scanners, phones, and mobile tablets can deliver measurable results in short timelines.
If you want to improve your MRO inventory accuracy, reduce production downtime, and drive labor efficiency, contact the inventory experts at Havensight and let's talk about how we can help.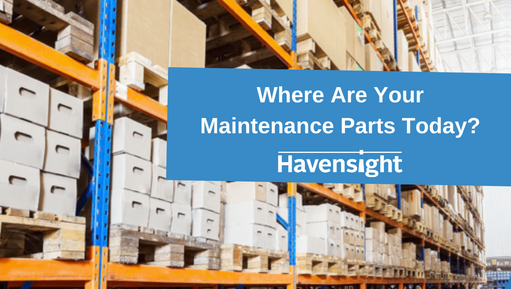 Contact Us Now