Stop Getting Hammered in Operations Meetings
As a maintenance leader, I will always be hardest on the maintenance team as my expectations for preparedness, efficiency, and effectiveness put the onus on the Maintenance team to control their own destiny. Throughout my career, I have been surprised by the number of maintenance managers who allow their teams to be driven by reactive requirements from production or other areas of the business and are unable to attend to planned activities. We all know that at the end of the day, production drives company revenue. The challenge becomes how do we work collaboratively with production to minimize downtime.
In a reactive maintenance organization, maintenance managers are constantly in firefighting mode with limited access to data. This limited data access causes delayed response time and increased frequency of breakdown. This approach causes stress between production and the maintenance organization.
Maintenance leaders need to be ready and able to approach challenges in a proactive and pragmatic way. With proper preparation and accurate data, maintenance managers can become heroes, partnering with their counterparts to solve problems and improve production output.
We will be laying out the three factors to keep in mind to get your team to this point.
What you need to be ready:
Sound, documented, and communicated processes
Corrective Maintenance Process – this begins with a notification in SAP. Not an email, not a call, and certainly not a shout over a production line. SAP is the ultimate fortune teller. It will reveal, most often to the second, what someone did or didn't do in the system. If I'm part of the operations team, I want to use the SAP notification because when I create the notification and hit save, I have done all that is requested of me and initiated a documentation trail. It is then up to the other participants in the process to do their part in the workflow.
Additional M&R processes that may fit your business might include: Breakdown Maintenance, Picking/Kitting, MRO Procurement, Storeroom GR/GI, Shutdown Maintenance, Cycle Counting, or Capital Investment work.
Relevant performance metrics and KPI's
Maintenance KPIs are measurable values that show how effective you are at achieving maintenance objectives, whereas maintenance metrics track a specific process's status. Performance metrics are more tactical and measure adherence to process execution. Metrics are quantifiable, they allow you to specifically state your results and show how well the actual activities are performing with respect to a set target. There are three main categories of maintenance metrics – Asset, Operational, and Inventory.
Maintenance Actions -> Maintenance Metrics à Maintenance KPI's -> Business Goals
An assessment is required in order to choose the right metrics for the maturity of your department(s). These could be metrics that track long-term or short-term goals. You must choose metrics that are applicable to your current skill and data level as an organization. For example, measuring Planned vs Actual spend is not valuable when your biggest issue is making sure that all maintenance and parts are captured on a work order.
Example metrics that may be tracked:
Planned vs Emergency Corrective
Work Order % written to Equipment
Free Text procurement vs SAP Material Master
Overtime %
Material Masters with a BOM
Status profiles and accurate reporting on work execution
1. Status profiles (Work Order and Equipment)
Creating Work Order status profiles which mirror your processes, coupled with disciplined and accurate execution, provides visibility of all work for the M&R team. Each swim lane in your process has certain transactions and duties that must routinely be completed in order for others to do their jobs.
These are a few examples of status profiles:

A valid and trained "Day in the Life Of" (DILO) is vital to making the maintenance processes work. Management must also be willing to monitor for training opportunities and identify ways to improve the process.
When the processes and statuses associated with each are known across the Plant Operations teams, you can save time by interrupting less, being better prepared for meetings, and having a better understanding of why decisions are made.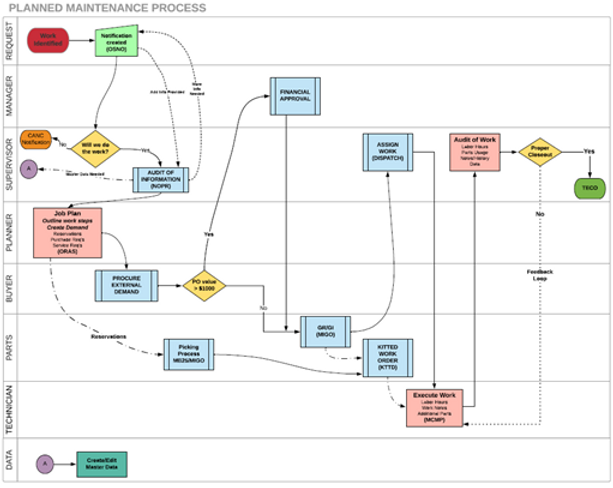 2. Reporting
To minimize downtime and create a more efficient maintenance organization, it's crucial to have a set of reports that will answer questions before they are asked. By producing and discussing reports of this nature, all participants in the process will have access to background knowledge which will inform future decisions.
These reports can be used to:
Analyze what went right
Identify what can be improved
Develop short- and long-term objectives
Better prioritize work
Examples of these reports are:

Conclusion:
The first step to more efficient and effective maintenance is assessing your current state, followed by developing and/or refining standardized processes across the maintenance organization and ensuring that your master data is useable and in line with your goals. There are reactive organizations who relish those brief moments when everything is running smoothly. Then, there are organizations with an approach based on metrics and milestones. How does your organization measure up?
Our Plant Maintenance Continuous Improvement Program ensures that SAP is configured to support your processes. We educate your maintenance team so they can become more efficient and understand the reasons and importance behind your processes. Contact us today and let's talk about how we can help guide your maintenance organization.
Author Bio: Leon Skrivanek has 30 years experience in Maintenance and Reliability (20 years in SAP) as a technician, super-user, administrator, manager, and consultant. Following a five-year enlistment in the US Marines, Leon began working as a Mech-Elec at a ribbon glass manufacturer. Leon also has experience with organizations ranging from small family businesses to ExxonMobil and The Coca-Cola Company. He is the guy you call once the big implementers have left you with a new system, a lot of documentation, and most folks standing around saying "now what?"
Contact Us Now