Simplify Your User Interface with Role-Based Solutions for SAP
There are technology fads which come and go, and then there are trends which persist and transform entire industries. One of these revolutionary concepts is a role-based workflow approach for enterprise applications. A role-based approach allows the user to focus on the work they are performing instead of how to report their progress within a complicated ERP tool. This shift to a job-based approach can be applied to applications across your organization and benefits your team by simplifying work processes which increases efficiency and decreases errors. We've highlighted a few examples of where this role-based approach could be applied below.
Technicians:
While technicians are in the field, a mobile enterprise asset management application gives team members the power to complete their work responsibilities more efficiently. SAP Asset Manager is the next generation mobile solution from SAP to employ role-based workflows. Users see the work orders assigned to them, the operations they must complete, and the materials they must use to service an asset. The application guides them through the process of starting, updating and completing the work order so the physical work is done as specified and required data is collected while technicians are still at the job site. Completing this information in the field ensures timely and accurate data is collected.
Inspector:
Historically, inspections in the field have been manually documented on paper forms while work processes were executed leveraging "tribal knowledge." This approach leaves room for error both in the physical work performed and the entry of data into the system of record. Illegible handwriting, completing incorrect segments on forms, or not completing necessary areas for the inspection are all enemies of the process. Mirata Forms mitigates these challenges by enabling intelligent workflows that guide inspectors through completing regulatory and business-related forms. Utilizing this role-based approach on mobile devices prevents errors and provides inspectors and managers with real-time access to clean data.
Maintenance Manager:
Maintenance Managers lead teams of maintenance technicians in the field. Within this role, there are a multitude of tasks managers must complete while remote. These range from creating and approving work orders, to ensuring their technicians are working at the correct location. Instead of sorting through unnecessary information, applications like Mobile Productivity Manager guide Managers through these processes step by step. This takes the guesswork out of the system, allowing these busy leaders to focus on their teams and the assets they are tasked to keep running.
Back Office Resource:
Role-based applications benefit workers across the organization, not just those in the field. Updating the UX of applications used for everyday business tasks, such as approving travel expenses, time sheets, and leave requests, removes complexity and improves efficiency. SAP Fiori is the design language that shifts task-based SAP applications to focus on the user and their specific role. These applications are easier to navigate thanks to a modern design which is meant to guide users through their work processes, improving operations and worker satisfaction at the same time.
Organizations are focused on worker productivity and user adoption, at the same time, they strive to improve job satisfaction. Deploying role-based applications across the enterprise has become a necessary element for companies to stay competitive. When the needs of individual team members are met, they are able to focus on growth and ROI instead of how to navigate a complex system.
Learn how to simplify your SAP user experience and improve efficiencies.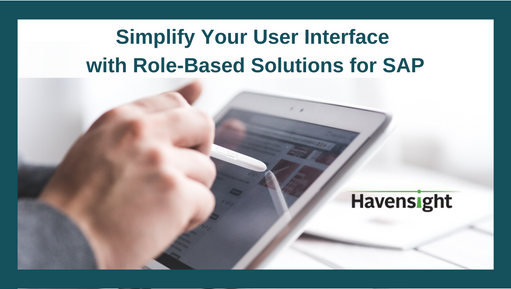 Contact Us Now