Measuring Your Readiness for an SAP Asset Manager Implementation
Are you familiar with the saying "measure twice, cut once?" This carpenter's motto can be applied to software implementations like SAP Asset Manager, where the preparation for a project lays the groundwork for success. Once the engagement starts, timelines are often tied to business events, system maintenance schedules, and time-based budgets so the costly mistake of incomplete planning and preparation should be avoided. Measuring twice means understanding the preparation steps needed in all phases of the project – from initiation to blueprint, to installation, development, testing, cutover and sustainment. The preparation needed for the initial phases of the project will be detailed in the rest of this post.
First and foremost, implementing a mobile EAM solution like SAP Asset Manager is an integration project which requires detailed understanding of the "back-end" processes which drive the maintenance operations. A useful way to think of SAP Asset Manager is to consider it as a fresh and modern UI that sits over the existing EAM data and configurations. The application will pull master data, configurations, and transactional data from SAP Plant Maintenance and display it to the user in an easy to understand way on a mobile device.
Although it's feasible to enable Asset Manager with existing PM configurations, oftentimes we find that we can enhance the Asset Manager mobile experience by making modest configuration changes within the PM module. The approach to PM configuration changes should be considered as part of the overall planning process.
Preparing for Blueprint
In preparing for the functional analysis or blueprint phase of the project, business teams should gather process flow documentation, user guides, and other relevant documents that describe the existing back-end EAM system. This includes lists of transactions used in work orders, failure reporting requirements, and label/barcode samples if they are used in the maintenance execution process. Mobile models will be created for each type of maintenance work that is performed – breakdown, corrective, and preventive. So be prepared to identify the differences and data requirements for each of these types of work.
Preparing for Installation
Preparing for technical installation of SAP Asset Manager involves several groups from the IT organization. Because SAP Asset Manager is a cloud-based application, the teams that provide outside connectivity, security, and cloud platform administration will be involved in establishing the connection to the SAP Cloud Platform. Some additional considerations when preparing for the project include:
Alert the Basis team of back-end installation requirements
Select from Cloud Platform deployment options
Determine who will take on ownership of Cloud Platform administration
Installation of the appropriate Cloud Connector, Gateway Server, and software
Review authentication strategies that should be integrated into the Cloud Platform services
Analysis of potential app users who must also have SAP logins (and potentially HR setup in SAP)
Preparing for Development
In anticipation of the configuration and development phase of the project, a number of preparation steps will also be required:
Prepare documentation outlining the SAP transport process and approval steps
Identify specific naming convention requirements and/or technical development standards
Gather a list of user exists, enhancements, and BADIs that have been implemented in the Plant Maintenance and Materials areas of SAP that may affect mobile applications
Prepare a Sandbox and Development environment with configurations matching QA/Prod systems, and enough data to run initial tests of the OOB software
Determine a source version control strategy for application development
Ready to get started?
Just like preparing for a woodworking project, having the correct preparation is crucial to avoid making a "bad cut" that would cost time, effort, and money. Being proactive will set you up for an outcome that benefits your organization for years to come. If you've already decided to enable or are in the process of evaluating SAP Asset Manager, our team at Havensight can walk you through these steps and many others to ensure your project is a success. Contact us to get started.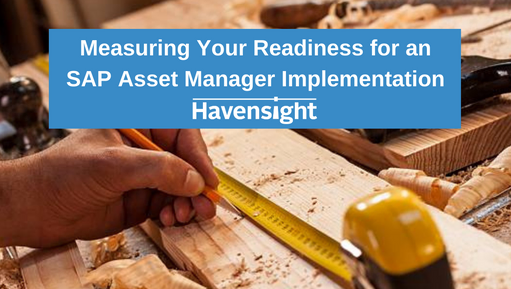 Contact Us Now