7 Questions to Ask When Considering an SAP Asset Manager Implementation
We recently shared a series on SAP Work Manager and SAP Asset Manager describing when to choose one product versus the other and how each benefit customers in different ways. The ideas and concepts outlined in the series have generated a number of customer inquiries about whether or not now is the right time to make the move from SAP Work Manager to SAP Asset Manager. This week, we'll lay out seven key considerations to ponder as you debate this important decision with your team:
Are you planning to migrate from Work Manager to SAP Asset Manager in the next 18 months?
If you are a Windows device user and are debating a move to SAM, what are your thoughts on moving from Windows to Android or iOS?
How about the SAP Intelligent Asset Management suite, are you thinking about making the move?
What do you think the benefits may be of moving to SAP Asset Manager from your current SAP Work Manager deployment?
If you want to stick with SAP Work Manager, do you need to deploy system modifications?
Do you currently have a Cloud Strategy in place? If so, what does it include?
Are you planning a migration to S/4HANA?
There's no specific set of responses to these questions which will identify your organization as being definitively prepared to transition to SAP Asset Manager. However, considering these questions will help you create a comprehensive view of the state of your organization's enterprise mobility strategy and future technology plans.
When considering a migration to SAP Asset Manager, it can be easy to think simply of the immediate impact of an SAP Asset Manager implementation. However, by implementing SAP Asset Manager, your organization will also be prepared to enable the SAP Intelligent Asset Management suite. Using the IAM suite, your team will obtain insights and improve efficiency using the data collected through SAP Asset Manager.
To provide customers vision into how this type of shift will benefit their organization, our team launched a new program called the Rapid Transformation Program (RTP). We encourage you to take some time to read our latest white paper which outlines the program's steps and deliverables – all of which prepare your organization for a smooth transition to SAP Asset Manager.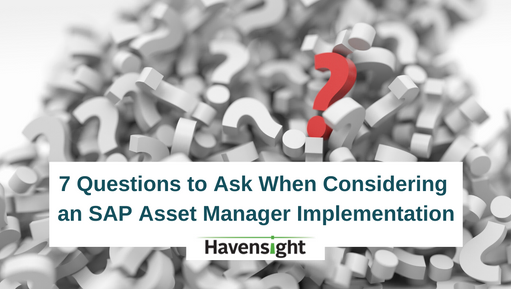 Contact Us Now